| | |
| --- | --- |
| New motivation for Vietnam's stock market | Back |
New motivation for Vietnam's stock market
Vietnam's stock market capitalization on the Ho Chi Minh Stock Exchange (HoSE) as of March 31 increased by 93.56 percent compared to a year ago, reaching more than VND4,460 trillion. The value was equivalent to about 70.95 percent of the country's gross domestic product (GDP).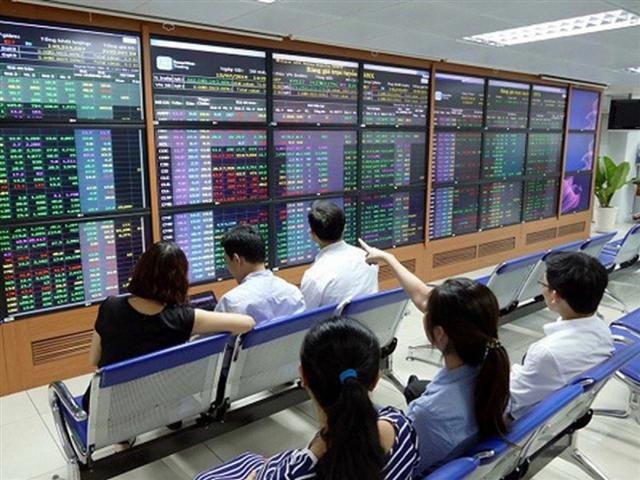 Banking stock prices are on the rise
Impressive growth
The VN-Index expanded by 1.97 percent to end the March 31 session at 1,191.44 points, an increase of 79.83 percent compared to a year ago, while the VNAllshare reached 1,158.99 points, a year-on-year increase of 95.94 percent. The VN30-Index grew by 1.93 percent to end at 1,196.24 points, or 95.86 percent higher than the figure recorded at the same time last year.
In March, more than 14.78 billion shares were traded on the HoSE at the value of over VND355.56 trillion. The market liquidity improved compared to the previous month, with average 642.6 million shares worth VND15.45 trillion sold in each transaction, an increase of 15.9 percent in volume and 11.33 percent in value.
Foreign players' transactions reached nearly VND69 trillion in March, accounting for 9.7 percent of the total, with net selling of more than VND12.25 trillion worth of stocks.
As many as 553 codes were traded on the HoSE by the end of the first quarter, including 397 stocks, three close-end fund certificates, seven exchange-traded funds (ETF), 114 covered warrants (CW), and 32 bonds.
Increased value of banking stocks
Many commercial banks, such as OCB, SeABank and BacABank, have listed shares on the stock exchanges. Many banking stocks, such as BAB, VIB, MSB, OCB and VPB, increased by 30 percent in the first quarter of 2021 compared to the same period last year. In particular, stocks of large banks, such as CTG, VCB and TCB, saw an average increase of 13-25 percent during the reviewed period.
By the end of March, market capitalization of 26 banks listed on the HoSE, the Hanoi Stock Exchange (HNX) and the UPCoM reached more than VND1,400 trillion, an increase of nearly VND150 trillion compared to the end of 2020.
According to a JP Morgan report, Vietnamese banks offer the best combination of growth and return on equity (ROE) in the ASEAN bloc, leading to expectations of 8-42 percent increases in stock prices this year and even higher over the next three years.
Dang Tran Phuc, chairman of the AzFin Vietnam Joint Stock Company, said the banking sector is now well positioned to fend off risks and take advantage of economic recovery in 2021 to provide a springboard for revenue and profit growth.
Source: Vietstock Finance